'Excellent, flexible and value-for-money'
Mark Ward, Head of Family

"The people who I have spoken to and dealt with at the practice have always been warm, welcoming and very professional" - Legal 500, 2022


The break up of a relationship is bound to be difficult. The emotional impact of a divorce or separation can leave you drained and the legal aspects can seem daunting and confusing.

Our dedicated team of family dispute and divorce solicitors provide specialist, expert advice on a range of family law issues to minimise the trauma.

Our family lawyers in Carlisle, Cockermouth and Newcastle are experienced in dealing with complex cases involving considerable pension assets, property and issues with children.
We are the only top ranked family law team in Cumbria in the Chambers and Partners legal guide. And we're pleased to say that much of our work comes from referrals and recommendations.

Our team is highly rated for its work advising on divorces involving businesses, with particular expertise in farm assets and partnerships.

We deal with difficult family issues like arrangements about where and with whom children will live and other parental rights issues such as family relocation, disputes about schooling and adoption, across Cumbria and beyond.
Burnetts has also developed a particular specialism in grandparent rights having provided extensive support to grandparents in cases of contact, residence and Special Guardianship Orders.


"They were hard-working, answered queries quickly and were always polite."- Chambers, 2022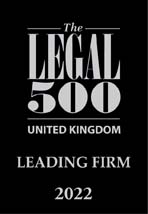 Get In Touch
We're always happy to help. Just complete and submit the form below and we'll be in touch with you shortly.
If you prefer you can give us a call:
01228 552222
Client Testimonials
I would like to say a huge thank you for your help in getting my divorce sorted, it was very much appreciated.

Client of Vikki Porthouse

You have been nothing short of incredible through this whole experience. I am extremely grateful for all of your help and advice through a very difficult period.

Thank you Emma!

Client of Emma Armstrong

Thank you for your help support and advice through a difficult time.

Client of Vikki Porthouse

I really want to emphasise how much I appreciate what you have done for me during this process. You have as we have discussed believed in me and enforced my best interests throughout this entire breakup.

I can't emphasise enough how much of a stability platform you have been for me during this.

Thank you for everything you have done and for being there for me throughout all of this.

Client of Emma Armstrong

Thank you once again for all you are doing. I can honestly say I am so impressed with the quality, sensitivity & appropriateness of your insight & experience Emma, it is greatly appreciated.

Client of Emma Armstrong