Let down by a medical professional?
Spencer Knaggs, Head of Medical Negligence and Serious Injury
Personal
Medical Negligence
"The thing that makes this team special is how they investigate every detail and gather ALL the facts before making the decisions that matter, meanwhile they kept me, as a client, informed of everything that was happening and advised on what we could or could not do going forward. They gave me confidence and belief in the decisions that had to be made."- Legal 500, 2022

Everyone makes mistakes, but when they're made by the medical profession the results can be devastating. A serious injury that is sustained through negligence of a medical professional can often have a life changing impact for the person affected and for their family whose lives have been turned upside down.
If you believe the treatment provided by a doctor, dentist, nurse or other health care professional has been unacceptable and that you or a family member have suffered unnecessarily, then we can advise you.
Our well-respected and highly-rated medical negligence and malpractice solicitors in Carlisle, Cockermouth, Newcastle and Penrith have vast experience of representing adults and children in cases across the UK.
Our goal is to support clients to make the best possible recovery so they can return to leading full and active lives. Why choose Burnetts?
Specialist practitioners experienced in clinical negligence
Access to solicitors accredited as clinical negligence specialists by Action against Medical Accidents (AvMA) and the Law Society
Range of funding options available, including conditional fee agreements (often called no win no fee arrangements) and legal aid
An award winning team recognised for exceptional levels of service
Qualified midwife in the team
Links to care providers and professionals who can make a difference in the rehabilitation of our most seriously injured clients
Home visits to discuss your claim and funding options
Referral to our dedicated Court of Protection team
Burnetts is one of the few firms that offer experienced and specialist team of lawyers. Our team is currently helping clients who have suffered from medical negligence at NHS and private hospitals, GP practices, care homes and dental practices across Cumbria, Lancashire, Northumberland, Tyneside, Sunderland and Teeside as well as many other areas the country.
Our experienced lawyers are able to support clients with regard to the full range of clinical negligence claims, including the key areas set out opposite.

"The team at Burnetts is very good and handles claims efficiently." - Chambers, 2022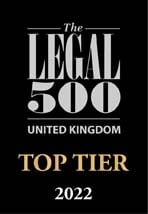 Get In Touch
We're always happy to help. Just complete and submit the form below and we'll be in touch with you shortly.
If you prefer you can give us a call:
01228 552222
Client Testimonials
Burnetts' have been extremely professional - thank you to all involved.

We would have no hesitation in recommending your services in future.

Client of Jayne McCluskey

Thank you so much for all your support, wisdom and effectiveness that made this process easier than I thought it would be.

Client of Michelle Armstrong

My mum would like to thank you for your faith and continued support in her case, she now feels that hopefully we're a step closer in her getting some justice.

Client of Lynne Hall

I have known Michelle for a number of years, having first met her when we both presented to a group of Senior Midwives on issues which relate to governance, quality, safety, and the law within Maternity Services. Michelle is in a unique position of being able to combine her previous experience as a Midwife with that of working as a Senior Associate for Burnetts.

Since our first meeting, I have been fortunate to have worked with Michelle on several occasions, inviting her to attend as guest speaker on various Midwifery development days. Michelle brings great balance between the clinical and legal professions, and places the family at the heart of her work. Michelle engages her audience, enabling participants to hear, discuss, and learn which, in turn, leads many to think differently, thereby impacting positively on their clinical practice.

I value what Michelle brings and I have no doubt that we will continue to work together into the future, improving outcomes for our families.

Associate Director

Thank you so much for all your hard work and much needed support throughout this difficult time. We'll never forget your kindness.

Client of Michelle Armstrong