Paul Brown
Medical Negligence and Serious Injury Partner

"Partner Paul Brown is a key contact for life-changing brain and spinal injuries." - Legal 500, 2022


Paul is a Partner in the Medical Negligence and Serious Injury team, based in Newcastle. Paul sees clients across Northern England both at their homes, at hospital, at one of our network of offices or a venue of the clients choice.

Paul joined Burnetts in June 2018 and has 20 years' experience of handling serious brain, amputation and spinal injury cases.
Paul is very passionate about getting the best possible rehabilitation and support for his clients, securing interim payments during the course of the case so that clients can make the best possible recovery following serious injuries.
Paul is recognised in both Legal 500 and Chambers and Partners 2019 editions for his work supporting seriously injured claimants. In Legal 500 it is stated Paul was "Top drawer" and "fights the corner for his clients", his "gentle and considered manner while having a firm grip on each of his cases and a determined approach to litigation". In Chambers and Partners advised Paul continues to advise clients on a range of severe injury cases, including spinal cord and brain injuries, as well as amputations. Sources report: "He is a man dedicated to his clients, and he will pursue any and every avenue".
Paul is chairman of brain injury charity Headway Wearside (www.headwaywearside.org.uk) an affiliated group of Headway UK The Brain Injury Association which he has been involved with since the establishment of the charity in 2009.
Headway Wearside and Headway UK support brain injury survivors and their families and carers following Acquired Brain Injury. Headway Wearside provides a range of services in the Sunderland area including hosting activity days and social meetings to bring brain injury survivors together and to help to support them in their return back into the community.
As a result of Paul's interest and experience in supporting brain injury survivors, he has also been elected to the position of Secretary for both The United Kingdom Acquired Brain Injury Forum (www.ukabif.org.uk) and the Northern Acquired Brain Injury Forum (NABIF) based in the North East and Cumbria lobbying for better resourced brain injury rehabilitation services and raising awareness of the effects of brain injury.
Paul has a keen interest in supporting people whom have sustained serious injury and their families through the legal process from start to finish. He has successfully won a number of multi-million-pound claims on behalf of seriously injured clients, defending their rights to significant claims when challenged. This has included numerous cases involving serious brain injuries, spinal cord injuries and amputation.
In a number of cases Paul has been involved in obtaining cutting edge technology and treatment for his clients. Indeed one example of this is that he secured a multi-million pound award for an upper limb amputee prosthetics which included provision for muscle re-innervation treatment linking nerves to prosthetics and rehabilitation treatment.
Originally from Washington, Tyne & Wear, Paul completed one of the first law and business degrees in Hull, before moving back to the North East to complete his Legal Practice Course at Northumbria University.
Outside of work, Paul is a keen runner running with his local club 'The Prudhoe Plodders' and helping out at his local park run on a Saturday.


"Paul is incredibly knowledgeable, utterly committed and really good with clients. He has an impressive eye for detail and he gets results. He has a wealth of knowledge and experience in helping claimants with brain injury claims." - Chambers, 2022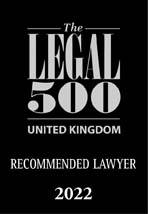 Contact Details
Sectors