Spencer Knaggs
Head of Medical Negligence and Serious Injury

Spencer Knaggs oversees the joint medical negligence and serious injury offering at Burnetts and is himself an acknowledged expert on severe spinal injury cases." - Legal 500, 2022


Spencer is a Partner and Head of the Medical Negligence and Serious Injury team, based in Carlisle.
Over the last 25 years Spencer has represented clients in serious injury cases. He joined Burnetts in 2017 after 14 years with Thompsons in Manchester.
Always ready to fight for the rights of seriously injured clients, Spencer has first-hand experience of nationally-significant cases. The decision in a high-profile causation case, which he took to the Court of Appeal in 2000, is still used as a legal precedent today. He also represented one of four Claimants in a national test litigation, which reached the House of Lords in 2007.
Spencer is ranked by the Legal 500 guide, is an APIL Senior Litigator and is accredited by both the Spinal Injuries Association and the leading brain injury charity in the UK, Headway. He is passionate about providing rehabilitation and support for seriously injured clients.
'I have been fortunate to work with Spencer with clients who have complex injuries including brain and spinal cord injury. Spencer works in a collaborative and client centred way and is intuitive in his understanding of the needs of his clients. Spencer is great at making himself available to the client and the team to ensure that the client and their family get the highest level of support to meet rehabilitation and life goals.' Case Manager/Head of Clinical Services, A Chance For Life Ltd.
Spencer studied law at Newcastle. When not exploring the Lake District you will find him playing golf, watching football or trying to keep up with his teenage son at Penrith Parkrun.

Spencer is a first-rate personal injury claimant solicitor. He is knowledgeable, shrewd and displays sound judgement and pragmatism in relation to his caseload." - Chambers, 2022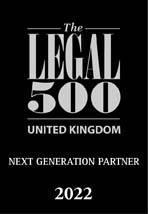 Contact Details
Sectors